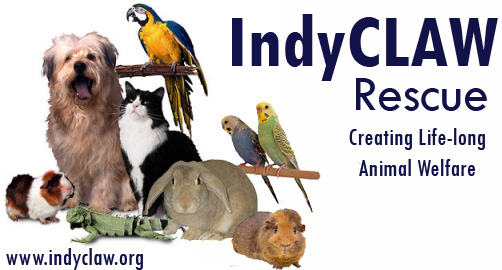 Volunteer opportunities
By and large, IndyCLAW Rescue is an all volunteer pet rescue with a shelter type environment. There are no paid employees and any monies received are spent for the care and upkeep of the companion pets and the facility. The majority of companion pets are housed in the 'bunny barn'. It was originally a horse barn. In 2013, we had it insulated, wired, dry walled, and the floor sealed to make it a year round environment for the variety of pets we care for. It takes many cleaning volunteers to keep it fresh and presentable to prospective adopters.
All our adoptable rabbits are kept in the 'bunny barn'. We are always open to volunteers to clean the rabbit condos. All our rabbits have been spayed / neutered and litter box trained or working on it. Each rabbit is kept in a condo where he/she has a litter box, food, water, toys and most of them have shelves to jump onto to create even more floor space. We do not use wire bottom cages for our rabbits. There are over 50 bunny condos that need cleaned twice a week or more for those that are still having issues with the litter box. Anyone wishing to volunteer would need to schedule a time for training and orientation.
There are, on average, six to eight bird cages for birds that comes in to be adopted are kept in the house so as to not cause problems for the very sensitive rabbit ears. Any dogs that we may have available are kept in the house as well, along with any reptiles since their care is very specific to include special feeding and lights. Cats are spread throughout. The most readily adoptable are in the bunny barn. Those not in barn are available on a case by case basis when we know of someone that would make a perfect home for one of them. Yes they need their litter boxes cleaned as well, but since they are inside our home, it requires a relationship developed over time as a bunny barn volunteer.
There is also a variety of small farm animals to care for and someone with special skills may be invited to attend to them. There are also many maintenance things to be done for the handy person or someone who enjoys yard work. Someone volunteering for those duties would free up our principle trustees to work on other projects.
Fostering
Because of our shelter type set up, we generally do not need fosters for rabbits. Those rabbits that we do send to foster homes are generally going with a volunteer who has been with us for awhile and knows the care and treatment standards we have for them. We have occasionally used homes that we have adopted to and have developed a relationship with to know that a temporary foster would be good for a rabbit needing a home setting or individual care. We have a select few volunteers/fosters that care for any special needs rabbits or rabbits in need of medical care / treatment. Because of our adoption process, when someone comes to meet the rabbits, they pretty much all need to be here and that is a challenge when they are scattered throughout a foster network. The same holds true for the other small mammals, smaller birds and cats.
We do tend to rely on fosters for dogs as our space for them is very limited and, unlike rabbits, people wanting to adopt a dog are looking at the specific dog and first meetings are generally at a neutral site.
Our foster application is rather detailed and provides most of the same information as an application to adopt. The premise being that if you don't qualify to adopt, why would you foster. There are exceptions for those companion pets needing short term housing or medical care. Please understand, fostering is not a shortcut to adoption nor does it eliminate the adoption fee. Adoption fees are collected to offset a portion of the veterinary expenses for the companion pets. Generally speaking, more is spent on each animal than their adoption fee. There are no low cost spay / neuter clinics for exotic pets like rabbits. The adoption fee cannot be set to match the expense as the fee must still be competitive with other groups offering the same type pet.
Foster Application
(This is a .pdf file for you to print, complete)