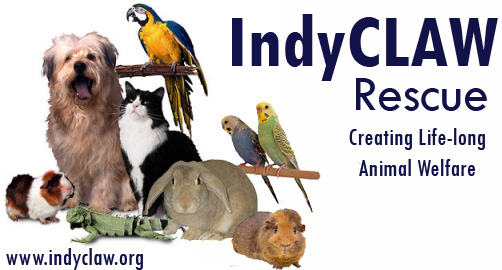 Rabbit Adoptions
IndyCLAW Rescue is dedicated to finding the best possible home for our adoptable rabbits.
All of our adoptable rabbits have been spayed/neutered. This simple surgery, though relatively expensive,
is not just for population control. It also eliminates territorial and domination issues. They no longer
need to be aggressive in marking or protecting a territory or winning a mate. More importantly,
spay/neuter surgery eliminates the source for gender cancers later in life. In days past,
the life expectancy of a rabbit was only two years, whereas, those that have been fixed and
are provided a safe habitat with quality food now average 10 years and many live into their late teens.
Not only is their life expectancy longer, but their quality of life is significantly improved.
IndyCLAW Rescue also does not adopt to outdoor hutches. Our rabbits, in addition to being fixed,
have been litter box trained or are in the training process. Rabbits are very neat and tidy, much like a
cat and do well indoors as house rabbits. They make great companion pets and enjoy spending
time with their 'family'. We do recommend a house cage / condo exercise pen for your domestic rabbit to
keep them out of trouble while you are away or sleeping. The size of the cage/condo will be
dependant on the time you are away. The longer they will be confined, the larger it needs to be
to provide room for exercise, litter box, hay and fresh water.
Our motto is also our mission statement, Creating Life-long Animal Welfare. Our process
begins with an application for adoption. If approved, you will be invited to visit our rescue center
to meet your desired new companion and for us to meet you. Many times we find that the rabbit you saw
on the adoption listing isn't the one that you finally select. Some rabbits are more photogenic and/ or have a
heart tugging story; but the listing cannot convey their personality which you would see during your visit.
If all goes well, we schedule a home visit and will bring your selected rabbit to you. Our goal is to insure
that their new environment will provide for their needs and provide a habitat for their 'life-long welfare'.
We would then leave the rabbit for a 'sleep-over' trial period of a few days to make sure that it will fit
into your home and insure there will not be allergies or other conflicts. If all goes well, the adoption is
finalized; if not, the pet would be returned to the shelter at no charge.

For more information on keeping a rabbit as a house pet, please ask.
A couple of very informative articles on rabbit care you may consider:
Spay / Neuter My Rabbit? Indoor vs Outdoor Housing
For Rabbit Adoptions:
Bunny Application as a form.pdf file
or Bunny Application as a word.doc file,
depending on which form works best for you.
At present the adoption application is not a web-form and cannot be completed online.
You will need to either print it out, complete it, scan it and send it by email to adopt@indyclaw.org;
or, fill out the word.doc, complete it, save it and send it by email to adopt@indyclaw.org.
If neither of these options work for you, print and complete the application and contact us for a postal address.

Because we are a private shelter, visits are by appointment only.