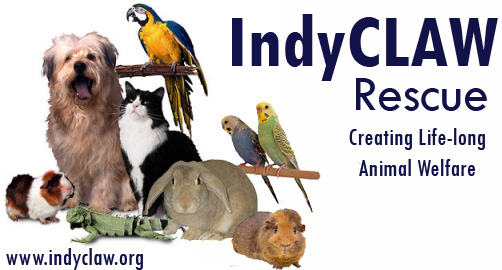 Exotic Pet and Farm Animal Adoptions
IndyCLAW Rescue is dedicated to finding the best possible home for our adoptable companion pets. IndyCLAW Rescue is by and large, a non-traditional / exotic pet shelter. The species we have available will vary and is not generally predictable. We do not deal with venomous animals, in fact, do not do any spiders or snakes. IndyCLAW focuses on small mammal pets, tropical birds and some small farm animals. Each species has its own needs for habitat and diet.
Potential adopters are expected to know the habitat and diet needs. Sometimes we impose additional restrictions on the adoption to allow for quality of life, not just an existence. Our adoptions are intended to be companion pets and are not adopted to be slaughtered for food nor used for breeding stock. Any restrictions on an adoption should be covered in the PetFinder listing , during our initial communications or during the scheduled meet and greet at the rescue center. The home visit should be without surprise.
Our motto is also our mission statement, Creating Life-long Animal Welfare. Our process begins with an application for adoption. If approved, you will be invited to meet your desired new companion and for us to meet you. If all goes well, we schedule a home visit and will bring your selected companion to you, except in the case of livestock where the adopter would need transportation after a successful home visit. Our goal is to insure that their new environment will provide for their 'life-long welfare'. We would then leave the pet for a 'sleep-over' trial period of a few days to make sure that it will fit into your home and insure there will not be allergies or other conflicts. If all goes well, the adoption is finalized; if not, the pet would be returned to IndyCLAW.
For Adoptions:
Application as a form.pdf file
or Application as a word.doc file,
depending on which form works best for you.

At present the adoption application is not a web-form and cannot be completed online.
You will need to either print it out, complete it, scan it and send it by email to adopt@indyclaw.org;
or, fill out the word.doc, complete it, save it and send it by email to adopt@indyclaw.org.
If neither of these options work for you, print and complete the application and contact us for a postal address.

Because we are a private shelter, visits are by appointment only.