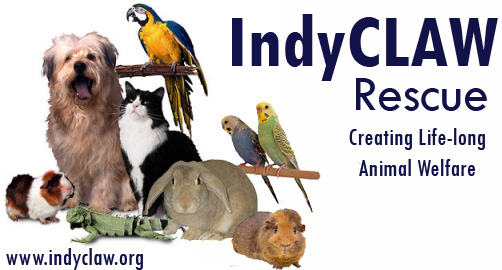 Cat or Dog Adoptions
IndyCLAW Rescue is dedicated to finding the best possible home for our adoptable companion pets. We typically do not rescue dogs or cats as they upset the exotic pets we care for. However, we have taken in a few cats over time and the occasional dog when the circumstances left us no options. When someone wants to surrender a cat or dog, we refer them to another rescue that specializes in cats or dogs. On occasion we will provide courtesy postings on PetFinder while the dog/cat stays in its current home pending adoption (also know as fostering in place).
We do insist on spay/neuter for any dog or cat prior to the completion of the adoption. They will also be current on shots and have a microchip registered to IndyCLAW which makes it imperative that adopters keep in touch if they move. Those costs are passed on in the adoption fee. Dogs and cats are to be indoor pets, unless specifically adopted as a barn cat or guard dog and the adoption contract modified to allow it. A fenced yard will be required for most dog adoptions. The size and area will be dependant on the needs of the particular dog. Our cats are not de-clawed; in recent years that practice has been revealed to be comparable to cutting off your fingers at the first knuckle.
Our motto is also our mission statement, Creating Life-long Animal Welfare. Our process begins with an application for adoption. If approved, you will be invited to meet your desired new companion and for us to meet you. If the adoption is for a dog and other dogs are in the household, a neutral place is recommended for them to meet. If all goes well, we schedule a home visit and will bring your selected companion to you. This interim time gives you the opportunity to obtain any needed food and supplies. Our goal is to ensure that their new environment will provide for their 'life-long welfare'. We would then leave the pet for a 'sleep-over' trial period of a few days to make sure that it will fit into your home and insure there will not be allergies or other conflicts. If all goes well, the adoption is finalized; if not, the dog or cat would be returned to the IndyCLAW.
For Adoptions:
Application as a form.pdf file
or Application as a word.doc file,
depending on which form works best for you.

At present the adoption application is not a web-form and cannot be completed online.
You will need to either print it out, complete it, scan it and send it by email to adopt@indyclaw.org;
or, fill out the word.doc, complete it, save it and send it by email to adopt@indyclaw.org.
If neither of these options work for you, print and complete the application and contact us for a postal address.

Because we are a private shelter, visits are by appointment only.