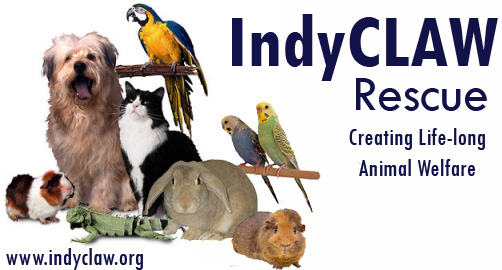 Bird Adoptions
IndyCLAW Rescue is dedicated to finding the best possible home for our adoptable feathered friends. We take in a wide variety of birds as space and temperament allows. Birds are very sensitive and we take great care in finding homes that will provide for their specific needs. Please note, all birds are very sensitive to second hand smoke and a smoker in the house will be sufficient cause to end the adoption process. Bird diets are often critical to their longevity. For caged birds, a pellet diet is recommended to give them all the vitamins and nutrients that a wild bird can find in its habitat.
Generally speaking, the larger the exotic bird the more daily human interaction they need to be social. Often the birds coming in to rescue have not had that interaction and can be a bit aggressive until trained otherwise. Adopters will need to be patient and consistent in re-training and socializing their companion bird. Some will be noted in the listing as restricted to bird savvy adopters, especially those that have learned to bite as a means of protecting their cage territory. These birds will not generally be available to families with small children who don't know how to keep their little fingers out of harm's way. Many of our available birds will have had their wings clipped while they are at the rescue center to make them more manageable for meeting potential adopters and our crew of cage cleaning volunteers.
Our motto is also our mission statement, Creating Life-long Animal Welfare. Our process begins with an application for adoption. If approved, you will be invited to visit our shelter to meet your desired new companion and for us to meet you. If all goes well, we schedule a home visit and will bring your selected bird to you. This interim time give you the opportunity to obtain a proper cage, if not provided, and supplies. Our goal is to insure that their new environment will provide a habitat for their 'life-long welfare'. We would then leave the bird for a 'sleep-over' trial period of a few days to make sure that it will fit into your home and insure there will not be allergies or other conflicts. If all goes well, the adoption is finalized; if not, the bird would be returned to the shelter.
For Companion Bird Adoptions:
Bird Application as a form.pdf file
or Bird Application as a word.doc file,
depending on which form works best for you.
At present the adoption application is not a web-form and cannot be completed online.
You will need to either print it out, complete it, scan it and send it by email to adopt@indyclaw.org;
or, fill out the word.doc version, complete it, save it and send it by email to adopt@indyclaw.org.
If neither of these options work for you, print and complete the application and contact us for a postal address.

Because we are a private shelter,
visits are by appointment only.